Sarasota is known for more than just its pretty beaches (even if its Siesta Key was voted the best one in the United States). The southwestern Florida city stretches from the mainland to a smattering of islands, like Lido Key and Siesta Key, helping cross the cosmopolitan edge of big-city living with the small-town vibes of a tiny beach town. It's home to the annual Sarasota Film Festival, a vibrant arts and theater scene, the gorgeous grounds of Marie Selby Botanical Gardens, The Ringling Museum of Art, and more. And when you're not kayaking, beaching, fishing, boating, golfing or just plain living the Florida lifestyle, it's also a prime place to sit down for a good meal.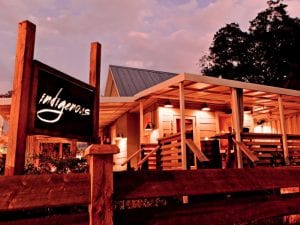 Local Eating: Indigenous
http://www.indigenoussarasota.com
The bay never feels far away at Indigenous. Set in a converted home in historical Towles Court, the restaurant serves carefully sourced local, sustainable and seasonal ingredients in a manner that is sophisticated, yet casual and comforting. Chef Steve Phelps' sturgeon is sourced locally from Mote Marine Aqua Farms, and other daily seafood choices come fresh from the nearby Gulf or the Atlantic. Vegetables have an even shorter trip, often picked from the kitchen's garden. Since this is Florida, indoor and outdoor dining are both available year-round. When the weather drops below 60 degrees F, head for a table beneath the warming blaze of a heat lamp.
Alfresco Dining: Shore Diner
Set on the second floor above its namesake surf-chic store, this decidedly retro restaurant is a diner's dream with open-air space modeled after Southern California's midcentury beach cafes. Take a break from a day shopping St. Armand's Circle to lounge on the back porch, or head to the front porch for views of palm tree-lined walkways. Shore's menu showcases coastal favorites for brunch, dinner and everything in between. Try a bacon-topped lobster sandwich, fish tacos or the House-Ground Shore Burger, with bacon jam and truffle fries. At happy hour, locals descend for craft cocktails and bites like Crispy Banh Mi Oyster Sliders at the bar.
Casual Dinner: State Street Eating House & Cocktails
http://www.statestreetsrq.com
Though still relatively new, State Street established itself as a downtown favorite from the day it first opened. Nearly every fixture of the restaurant is elegantly exposed and industrial, from the rafters and worn brick to the unadorned light bulbs. The atmosphere sets the scene for handcrafted cocktails and classic, back-to-your-roots American fare. Snacks like bite-size lobster rolls, corn dogs and fried okra start it all off strong. Braises, Roasts and Bakes is the aptly named large-format menu section, with dishes like truffle-infused Baked Lobster Mac and Cheese, and Classic Tuna Casserole, featuring house-jarred tuna. The Local Catch changes daily, but could include pan-seared salmon brightened with grilled lemon and thyme.
Seafood: Owen's Fish Camp
www.owensfishcamp.com
Pulling up a chair at Owen's is like kicking back in Old Florida. At its Burns Court location in downtown Sarasota, the restaurant's cottage sits beneath a sprawling banyan tree, with a tire swing hanging out back. The kitchen specializes in Southern seafood favorites reeled in from the bay each day to be blackened, grilled or fried for the menu. To begin, snack on boiled roadside peanuts, smoked fish spread and fried dill pickles, paired with craft beer and wine. From there, try Southern classics, like Oyster Po' Boys and Fried Soft-Shell Crab BLTs, or try a full-fledged Low Country Boil and Shrimp and Grits.
Institution: Columbia Restaurant
http://www.columbiarestaurant.com
For shoppers in St. Armands Circle, Columbia Restaurant is practically a mandatory stop for lunch or dinner. The elegant dining room is decorated with hand-painted tiles and opens onto the spacious patio. Either setting is ideal for the restaurant's Spanish-Cuban cuisine, including mojitos and sangria that is best by the pitcher. Columbia is renowned for its famous 1905 Salad. Named for the year the Tampa-based restaurant was founded, the salad is tossed tableside with iceberg lettuce, strips of ham and Swiss, tomatoes, green olives, grated Romano cheese and garlicky Worcestershire-spiked dressing. Take it with a side of Caldo Gallego or Cuban black bean soup and you've got yourself a meal.
Breakfast: Sun Garden Cafe
www.sungardencafe.com
Before sprawling out at Siesta Key Beach, head down the road for breakfast on the breezy patio at Sun Garden Cafe. The breakfast menu has something for everyone, including garden omelets, clever takes on eggs Benedict and griddled favorites like a small stack of plush sweet potato pancakes. Even dessert gets a morning makeover, in the Grateful Bread Pudding (pictured above) with lemon and blueberries. At lunch go for a native favorite: the Yucatan Tacos with fresh-from-the-Gulf charred mahi.
Frozen Drinks: Daiquiri Deck Raw Bar
http://www.daiquiridecksiestakey.com
Cap a beach day with alfresco electric-hued, on-tap frozen daiquiris at the perfectly named nearby Daiquiri Deck. With a wide variety of frozen Daiquiri flavors, including classic strawberry, pucker-worthy Electric Lemon, grapey Purple Haze and Banana Slider, happy hour offers plenty of options from 3 p.m. until 7 p.m. each day. In between ice-cold sips, knock back a few oysters from the raw bar and take in some live music. Daiquiri Deck has three locations — on Siesta Key, on St. Armands and in Venice — so a little ice-cold refreshment is never far away.
Date Night: Selva Grill
http://www.selvagrill.com
Killer mojitos, fresh ceviches and a cosmopolitan scene give Selva Grill its distinctive South-Beach-meets-Sarasota vibe. The modern, colorful interior — with a beautiful mural along one wall — sets the perfect tone for the top-notch Nuevo Latino cuisine, including perhaps the most-intricate, contemporary and whimsical plate presentations of any restaurant in the area. Start with one of the renowned Ceviches de la Casa, like the lime-infused Selva Wild Ceviche with white fish, onion, cilantro and plump Cuzco corn. From there, excellent options include both frutas del mar and dishes de la tierra. Atlantic cod (pictured above) comes stewed in spicy tomatoes, chorizo and rice, wrapped in a plantain leaf and served with spears of fire-roasted Cuzco corn. Selva's Famous Skirt Steak — with sweet plantains and house chimichurri — has its name for a reason, and it's even better paired with a side of truffle risotto.
Barbecue: Nancy's Bar-B-Que
www.nancysbarbq.com
The Gulf Coast may not be renowned for its barbecue, but it soon will be, if Nancy Krohngold has anything to say about it. In a historical Burns Square space that once housed an oil station and garage, Krohngold now operates this barbecue restaurant, including a smokehouse with an oak-fueled barbecue oven smoking tender St. Louis-style ribs, pork, brisket, chicken and sausages. Order a platter or try the signature Swine Squared Sandwich, which comes stacked with bacon-tossed pulled pork, slaw, sweet pickle slices and BBQ sauce all on a plump artisan roll.
Italian: Mediterraneo
Since 1996, Mediterraneo has been a beacon of casual upscale Northern-style Italian in downtown Sarasota. Don't let the white tablecloths fool you: Mediterraneo is warm and family-friendly, with three contemporary dining rooms, as well as sidewalk seating. Run by Italian owners, the restaurant offers specialties that span the country's best regions. Dishes include fresh seafood, meats, pasta and thin-crust, wood-fired pizza. The most-famous dish is the Veal Chop Milanese, which comes pounded, breaded and topped with arugula and tomatoes.
Frozen Treats: SunniBunni Frozen Yogurt & Smoothies
http://www.sunnibunni.com
In-the-know Sarasota natives head straight for SunniBunni when frozen yogurt cravings strike. The local staple makes its thick, creamy yogurt without any powdered mixes or freeze-dried products, meaning that each scoop is packed with good-for-you probiotics. Rotating flavors range from the popular tart original flavor to the sweet, buttery "MegaBunni" flavor. Top a dish with fresh fruit, cereal, candy and home-baked "BunniBits," or turn your choice into a smoothie.
View: New Pass Grill and Bait Shop
http://www.newpassgrill.com
Accessible by car and boat, this bait shop has more than just bait and tackle for your next fishing trip. With prime views of Sarasota Bay, this nostalgic relic of Old Florida has grilled award-winning burgers since 1929. The kitchen also assembles sandwiches, hot dogs and fried fish with crisp fries for dockside lunches. Early-morning boaters can swing through for breakfast starting at 7 a.m.