If you ask anyone where the best spot in Sarasota is, they'll each have a different answer. The city is split into many diverse neighborhoods, making it easy to explore a new part of town, experience a change of pace, or find something really rare and unique. Whether you like the hometown atmosphere of Gillespie Park or the upscale living at Laurel Park, you can find your favorite lifestyle in Sarasota.
Gillespie Park
The one word that best describes Gillespie Park is 'community'. Made from the combined efforts of individuals and civic groups, this neighborhood features a popular butterfly garden and a great children's playground. Make sure to take furry friends by The Canine Club for some fresh air, or visit the Historic Downtown Village Shops for quaint architecture and unique art finds.
Siesta Key
If you're looking for the perfect Florida beaches to share with family and friends, look no further than the white sand beaches of Siesta Key. Highly regarded for its award-winning beaches, TripAdvisor once again announced Siesta Key Beach as Number 2 on its 'Top 10 Beaches in the U.S.' list, and Dr. Beach has announced Siesta Key Beach as their number one beach of 2017. It's a great place to watch porpoises frolicking in the Gulf of Mexico or get in a morning workout on the beach. Once you're done soaking up the sun, head to Siesta Village for Bonjour, a French café that makes a great espresso, or check out Created Gems for a locally made piece of jewelry.
Laurel Park
Laurel Park represents a way of life that was thought to be long gone. In this neighborhood, you're surrounded by oak trees dripping with Spanish moss and buildings dating to the beginning of the 20th century. The residents of this neighborhood are so committed to the preservation of their historic buildings, that many of them are listed in the Laurel Park National Register Historic District. The shopping here is unparalleled, with eagle-eyed shoppers having found everything from high-end designer brands to vintage items from the 1900s and onwards in stores such as The Exchange and Asparagus.
Rosemary District
This neighborhood is the heart of Sarasota's arts and culture scene. Its vibrant history, dating back to the first residents of the area, has drawn in artists and art purveyors of all kinds. You'll often find them at the Florida Studio Theatre or at the Art Center Sarasota. Although, no matter where you turn, you're sure to find something creative!
There are big things ahead for the Rosemary District. The area's bayfront has been recently approved for redevelopment and will serve as the home for a future entertainment complex – 'The Bay'. The recently approved plans intend to create a new social centerpiece to serve as the heart of Sarasota's waterfront arts and entertainment district. Another future development, the Quay Sarasota, will offer dining and shopping immediately across the street from BLVD in the Rosemary District.
Also located in the Rosemary District BLVD Sarasota has become one of the areas' most desirable new address. Construction is now well underway and homes will range from 3,550 to 5,500 sq. feet. Start at $1.9 million, each home will enjoy panoramic city and/or bay views. Residents are accommodated with an unprecedented array of amenities, ranging from a zero-horizon rooftop pool that overlooks the city and the bay to a large temperature-controlled wine vault with private lockable showcases. On the fifth floor, this dog-friendly home has a BLVD pet lawn as well as a grooming station for your four-legged friend.
Right around the corner, residents can enjoy Sarasota's world-class entertainment, museums, art galleries, and restaurants. Not only that, world-renowned chef Sean Murphy recently announced his new restaurant that will be located on the first floor of BLVD Sarasota. It is no wonder why residences are nearly halfway sold out.
Due to construction progress, our new sales studio is now open, featuring your in-person virtual reality experience at 1266 1st Street, Suite 5, Sarasota. Call our client liaisons at 941-316-1499 to schedule your tour today. Download our Digital Brochure at our website, BLVDsarasota.com.
It's the city's fastest-changing neighborhood.
Even in its downtrodden days, the Rosemary District stood out for its unbeatable location, just a few blocks from downtown Sarasota and the bay. But not until 2014, when the city increased density for new projects in the neighborhood from 25 units to 75 units per acre, did development take off. More than 1,500 residential units are being developed, have been approved or are awaiting approval. A hotel, three apartment projects and 11 condominiums are rising, with some units priced at more than a million dollars. Restaurants, furniture stores and offices are cropping up, and the district was recently rated one of the 10 most walkable neighborhoods in Florida.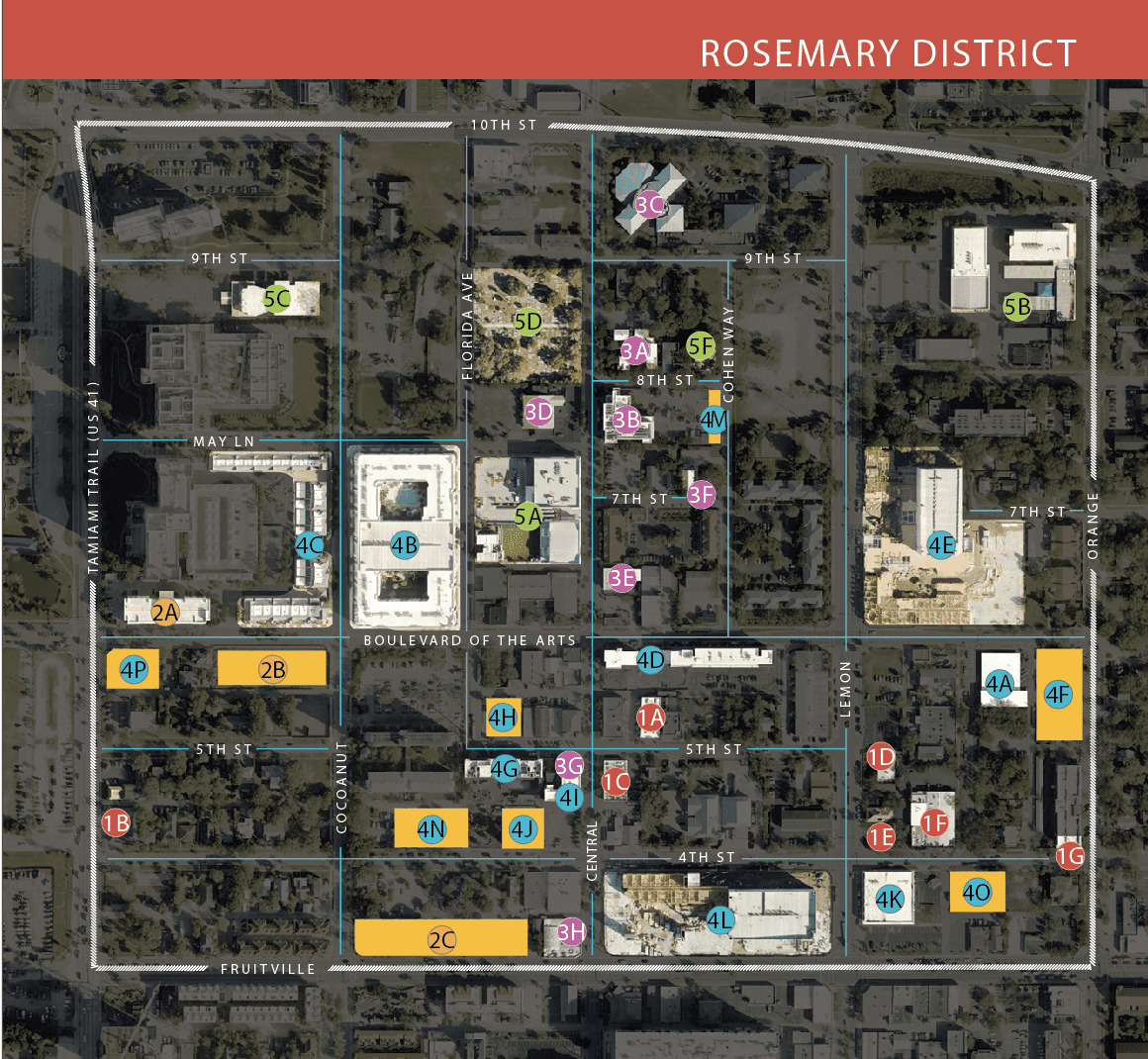 Restaurants
1A LOLITA TARTINE—1419 Fifth St. Breakfast through dinner, casual French fare in a colorful industrial space; owners own two C'est La Vie restaurants.
1B TOASTED MANGO CAFÉ—430 N. Tamiami Trail. Cheerful, reasonably priced, breakfast and lunch.
1C BLUE APRON CAFÉ AND CATERING—436 Central Ave. Small eatery, breakfast and lunch.
1D MANDEVILLE BEER GARDEN—428 N. Lemon Ave. A district hotspot offering 30 craft beers on tap or 150 beers by the bottle; packed Tuesday trivia nights.
1E STATION 400—400 N. Lemon Ave. A favorite breakfast and brunch spot in a restored train depot.
1F THE BLUE ROOSTER—1525 Fourth St. Live blues and Southern fare.
1G THE ROSEMARY—411 N. Orange Ave. American bistro in Citrus Square open for breakfast, lunch and dinner.
Hotels
2A HOTEL INDIGO SARASOTA—1223 Boulevard of the Arts. Four-story, 95-room boutique hotel.
2B THE SARASOTA MODERN HOTEl—591 Cocoanut Ave. Under construction, an 89-room luxury hotel, includes 151-seat restaurant; open early 2018.
2C CAMBRIA HOTEL AND SUITES—Fruitville Road between Central and Cocoanut. Five-story, 118-room hotel; construction has not started.
Shopping & Services
3A ROSEMARY COURT WELLNESS CENTER—810 Central Ave. A small complex of four 1920s homes; includes popular Rosemary Court Yoga.
3B PLANNED PARENTHOOD OF SOUTHWEST AND CENTRAL FLORIDA—736 Central Ave. Headquarters of the 22-county Planned Parenthood affiliate.
3C THE SALVATION ARMY SARASOTA—1400 10th St. Food, shelter and social services for the needy.
3D HOME RESOURCE—741 Central Ave. Contemporary furniture store in a renovated garage.
3E THE SARASOTA COLLECTION HOME STORE—622 Central Ave. Eclectic furniture store of four big showrooms.
3F CANNED HAM VINTAGE—1435 Seventh St. Small shop jammed with vintage clothing, jewelry and home goods.
3G ARCHITECTURAL REVIVAL—421 Central Ave. Repurposed furnishings and custom furniture design.
3H BLUE LINE INC.—301 Central Ave. Longtime downtown art and office supply store.
New Developments
4A BOTA CENTER—1570 Boulevard of the Arts. Meticulous renovation of the old Babcock Furniture Store into a center for creatives and their businesses, anticipated completion fall 2017.
4B CITYSIDE APARTMENTS—700 Cocoanut Ave. Four-story, 228-unit apartment complex ushered in Sarasota's apartment building boom; a second phase of 261 apartments is planned.
4C VALENCIA AT ROSEMARY PLACE—601 Cocoanut Ave. About 30 townhomes under construction, starting in the mid-$500,000s, anticipated completion 2017.
4D ROSEMARY SQUARE—1440 Boulevard of the Arts. Three-building campus includes a condominium of 30 residences (all sold to the Sarasota Opera for artists) with retail and office on the ground floor; a building with studio space for The Players and Sarasota Contemporary Dance; and a building with two restaurants; anticipated completion January 2018.
4E ELAN ROSEMARY APARTMENTS—710 N. Lemon Ave. Four-story, 286-apartment project, anticipated completion December 2018.
4F THE COURTYARD AT CITRUS—461 N. Orange Ave. Phase II and III of European-style three-story condo/retail project will include 28 condos priced between $395,000 to $455,000 and commercial space, anticipated completion 2017/2018.
4G RISDON ON FIFTH—1350 Fifth St. 22 modern-style condos priced between $389,000 to $949,000; ground-level commercial space; anticipated completion fall 2017.
4H THE RISDON—1374 Fifth Way. 11 modern-styled luxury condos, $600,000 to $1.5 million, construction to start in spring 2018.
4I FIFTH AND CENTRAL—435 Central Ave. Another Risdon Group project, three-story building with 3,000 square feet of ground-level retail with two stories of six condos, $500,000 to $850,000, ready for occupancy fall 2017.
4J VANGUARD LOFTS—1343 Fourth St. Six modern townhomes, $550,000 to $900,000; anticipated completion fall 2017.
4K 1515 FRUITVILLE—1515 Fruitville Road. Upscale, modern 15,000-square-foot retail center under construction.
4L URBAN FLATS—1401 Fruitville Road. Five-story, 228-unit apartment complex under construction, rents averaging $1,700 a month; anticipated completion fall 2017.
4M KRETZMER ARTIST RESIDENCE—751 Cohen Way. Five town-homes with 20 bedrooms for visiting Florida Studio Theatre artists and young theater professionals; anticipated completion October 2017.
4N DRAPAC—1359 Fourth St. Modern-style condo of 62 units with 2,820 square feet of commercial space; construction has not started.
4O ZAHRADA—1542 Fourth St. Six luxury townhomes, above $1.3 million-plus to start; 5,150 square feet of commercial space; construction has not started.
4P BLVD SARASOTA—540 N. Tamiami Trail. 49-unit condominium, $1.6 million-plus units, includes a 7,250-square-foot restaurant space; anticipated completion, summer/fall 2019.
Miscellaneous
5A SARASOTA SCHOOL OF ARTS AND SCIENCES—645 Central Ave. A-rated public charter middle school.
5B SARASOTA MILITARY ACADEMY—801 N. Orange Ave. High school campus of the C-rated public charter school.
5C THE PLAYERS THEATRE—838 N. Tamiami Trail. The city of Sarasota is considering buying the 2-acre site of the longtime community theater, which is moving to Lakewood Ranch
5D ROSEMARY CEMETERY—851 Central Ave. Historic-designated cemetery with graves dating back to 1887.
5F ROSEMARY DISTRICT INDIE MARKET—701 Cohen Way. Artists, craftspeople and farmers gather at this corner parking lot every third Saturday in season.
Published by: Sarasota Magazine Susan Burns