Moke Electric Jeep: Made In Sarasota
When you're Kris Jenner, you can expect your Christmas gifts to be extraordinary. The 62-year-old reality star received a sporty designer electric jeep for the holiday and flaunted it on social media.
Moke Military jeeps earned new life in the 1960s when movie stars made them a stylish way to cruise Mediterranean hot spots like Saint-Tropez. Fast forward to 2017 when Kris Jenner posts on Instagram,"I LOVE this electric car!!!!!! Best surprise for Christmas!!!!! @mokeamerica," she wrote, adding the hashtags #MokeAmerica, #GoingGreen, #ElectricVehicle and #Moke.
Originally designed in the 1950s as a military jeep that was light enough to be dropped by parachute from an airplane, the Moke earned new life in the 1960s, when bright stars like Brigitte Bardot made it the most stylish way to cruise Mediterranean hot spots like Saint-Tropez. In 2015, a group of British entrepreneurs bought the Moke name and began to revive it. An entrepreneur named Todd Rome then purchased the rights to the U.S. market and earlier this year hired Sarasota's Cruise Car to handle production of an electric version. The company began cranking out electric Mokes in August, and is currently manufacturing about 100 per month.
Cruise Car, owned by Adam Sulimirski and Nathan Kalin, builds a variety of low-speed electric vehicles that can carry from four to 30 passengers. The company sells primarily to government agencies, universities, hotels and municipalities.
Cruise Car is the fourth biggest manufacturer of electric vehicles in the U.S. and employs 20.
The Moke became iconic in part because of its brightly colored designs. Today, you can buy a Moke in black, blue, green, orange, red, white or yellow.
The original Moke was featured in the 1973 James Bond film Live and Let Die. In the film, actor Roger Moore drives the vehicle on the fictional Caribbean island of San Monique.
The Moke was also driven by journalist Hunter S. Thompson and novelist V.S. Naipaul in Grenada. The two were pictured driving the jeep while visiting the island after the American invasion of 1983.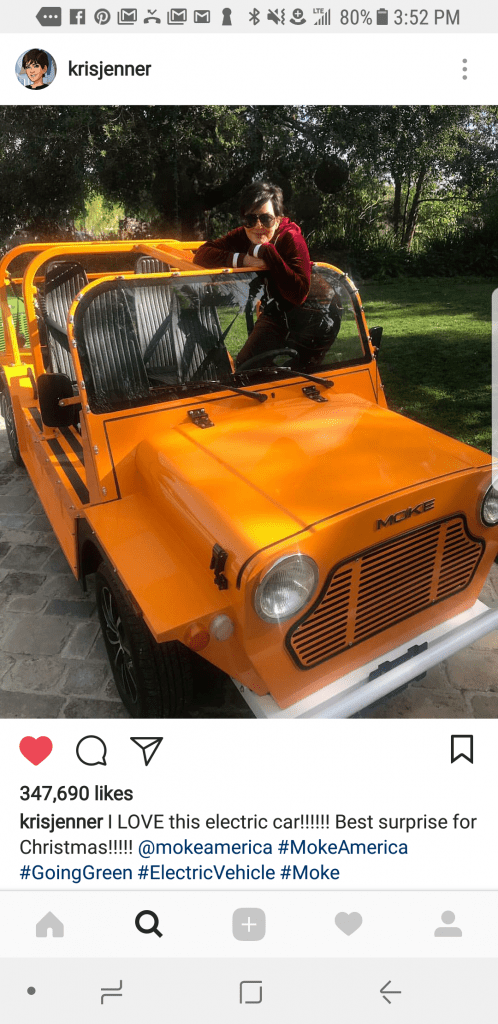 By law, electric Mokes can't go above 25 miles per hour and must stay on streets with a maximum speed of 35 miles per hour.
$16,000-$17,500 Price range of electric Mokes
40-50 miles Range of a fully charged electric Moke
The electric Moke carries 10 batteries to give it additional power. Most electric golf carts have between four and six. Unlike many electric vehicles, the electric Moke doesn't require a special charging station. Owners can plug the car directly into a normal outlet to recharge it.
Original Moke Article Published By Sarasota Magazine