We can't help but fall in love with fall in Sarasota, especially with events like these! Check out how Sarasota is getting into the fall spirit.
No one does fall like Sarasota! We may not have the leaves changing color or the cool autumn winds, but we have great fall themed food, contests, and a taste for Halloween like no one else! Get ready to get down with these fun activities!
Fruitville Grove Pumpkin Festival
One of the area's most beloved autumn festivals is back for more fall fun! This local small town grocer is asking the community to stop by every weekend in October for pony rides, a petting zoo, pumpkin painting, and a costume contest at 1 P.M. every Saturday. Come in costume and get your camera ready for some pre Halloween celebrations!
Sarasota Chalk Festival
The art festival that gets noticed by the fine arts world is back! Come November 9th through the 12th, artists such as Jenny Martin and Carlos Robledo will gather to create works of art under the theme of 'Garden of Wonders' using nothing but chalk and the pavement. A few classes will be held in the days before the event, showing how to utilize this medium to create optical illusions and dramatic displays.
Night of Fish, Fun, and Frights
The scientists and underwater residents at MOTE Aquarium are determined to give you a spooky fun time this October with Halloween themed projects and programs! Younger kids will enjoy hunting for shark teeth in Coffin Creek and viewing the animal tanks decorated for Halloween, while older kids can participate in mad science experiments based on aquarium research. Keep an eye out for the pumpkin carving in the shark tanks!
Manasota Pumpkin Festival
Come dressed up in your best costumes and partake in a costume contests, pie eating, free hayrides, a pumpkin patch and maze. The festival will also host a variety of attractions such as, craft vendors, live entertainment, delicious food, and a beer garden!
Selby Gardens Spooktacular
Enjoy some Halloween fun before the big day at Selby Botanical Gardens, with daytime trick or treating, pumpkin decorating, and fall food vendors! The botanists and staff at the gardens have even crafted their own mad science experiments that show how seeds grow, how different environments affect them, and more! Come in costume for a wild good time!
BLVD Sarasota, a 49-unit luxury condominium project is currently under construction in the heart of the New Downtown Sarasota, located on the southeast corner of Boulevard of the Arts and Tamiami Trail. It has brought an exciting energy to the city's vibrant downtown arts district that Sarasota has never seen before, with the new Bay and Quay projects right around the corner. A private door leads you directly to BLVD's soon to be famous 19th floor pool deck with over 8,000 sq ft of luxurious cabanas, fire features and a zero-horizon heated pool and spa. The life you've earned awaits you.
Our new sales studio is now open, featuring your in-person virtual reality experience at 1266 1st Street, Suite 5, Sarasota FL 34236. Call our client liaisons at 941-316-1499 to schedule your tour today. If you are unable to make it into the studio, download our Digital Brochure or visit our website, BLVDsarasota.com.
Art, music, crafts, festivals, and more are taking over as the weather cools down. Mark your calendars-there's a lot to do in Sarasota this month!
Summer may be winding down, but there's no better time to enjoy the culture scene in Sarasota than now. "Sarasota's unique role as a crossroads for arts and entertainment creates calendars filled with events and activities focused on creative endeavors, independent artists, and new cuisines," said Keith Redding of Keys Solutions Real Estate. The fun increases in September, get ready to use your senses to touch, taste, and experience the best of Sarasota's social scene come this September.
Englewood Farmer's Market
The backdrop of historical downtown Englewood serves as the perfect place for local farmers and artisans to sell their produce and craft pieces. Every Thursday Purveyors can enjoy everything from fresh flowers to German pastries. The emphasis here is on quality, with the best being selected to sell their products at the market.
72nd Annual Labor Day Regatta
The Sarasota Sailing Squadron is inviting the residents of the area to enjoy the weekend before Labor Day with them and watch competitors sail their vessels through five different courses. Enjoy lunch and refreshments alongside live music at the Squadron's clubhouse. The event is an established part of Sarasota's history -it was started in the 1930s as an offshoot of the local youth sailing club, and expanded to offer those who did not have their own yachts to sail on a chance to enjoy their hobby.
Life's a Beach (Triathlon)
Get ready to swim, bike, and run your way to victory during this fun triathlon. Designed for both beginning and expert triathlon runners, this race will take you all across Sarasota's Lido Beach. That's not all- $1 from each full registration goes to a local Sea Turtle Walk program or local beach preservation program.
A Taste of Downtown Sarasota
Local gourmands' annual opportunity to sample 20 of the area's most popular restaurants has come again. This September, diners will gather at the Sarasota Opera to taste dishes and enjoy accompanying beers and wines with them. Proceeds will benefit the Sarasota Youth Opera.
Jerry Seinfeld at the Van Wezel
Known for his dry sense of humor and eponymous comedy hit TV series, Jerry Seinfeld will be delivering his brand of comedy to the audiences of the Van Wezel Theatre in late September. Make sure not to miss this one!
The Suncoast Oktoberfest
Sponsored by Geier's Sausage Kitchen, enjoy a little bit of Germany in Florida this late September-early October. Guests will get to enjoy authentic German food, German liquors, and of course, German beer. Live music, games, contests, and more will occur during the event.
Sarasota is filled to the brim with things to do-all within walking distance. Having two of their neighborhoods make Redfin's Ten Most Walkable Neighborhoods In Florida, these locations are all under ten minutes away from one of Sarasota's newest luxury condominium, BLVD Sarasota.
Sarasota's most desirable address is now under construction! BLVD Sarasota exhibits stunning architecture with panoramic views that start at 3,550 sq. feet and have up to 5,900 sq. feet and start at $1.9 million. Residents are accommodated with a select set of amenities, ranging from a zero-horizon pool that overlooks the city and the bay to a large temperature-controlled wine vaults with private lockable showcases on the fifth floor. Located within walking distance of the diverse Rosemary District, residents can enjoy Sarasota's world-class entertainment, museums, art galleries and restaurants it is no wonder why residences nearly halfway sold out.
Our new sales studio is now open, featuring your in-person virtual reality experience at 1266 1st Street, Suite 5, Sarasota FL 34236. Call our client liaisons at 941-316-1499 to schedule your tour today. If you are unable to make it into the studio, download our Digital Brochure or visit our website, BLVDsarasota.com.
A Paddle Pro Shares Best Places to Go in the Sarasota Area
DO ALL THOSE KAYAKERS dotting our area's bays and rivers inspire you to grab a paddle? The nonprofit American Littoral Society chapter offers peaceful guided kayak trips all around the region, led for more than 20 years by the enthusiastic and knowledgeable John Sarkozy. All the equipment is supplied, and Sarkozy starts each trip with a short training session.
Here are our top picks for paddling, whether you're a newbie or an experienced kayaker.
Oscar Scherer State Park
Oscar Scherer State Park is a nature lover's oasis right off bustling Tamiami Trail in Osprey, and the lovely South Creek that runs through it makes for a delightful short paddle. Put your kayak in at the ADA-compliant launch at the South Creek picnic area, or from a primitive launch across from the ranger station. Rentals are available. On Wednesday mornings, rangers and volunteers lead guided 90-minute paddles. "It's so scenic," says Sarkozy. "You'll see lots of native plants; they've done a good job of keeping out the Brazilian peppers, and the variety of vegetation is enormous." South Creek is brackish, a mix of salt and freshwater, but don't let the freshwater part scare you away. "There's very little chance of seeing alligators," Sarkozy says.
South Lido Mangrove Tunnels
If you're comfortable paddling in a pack, the world-famous South Lido mangrove tunnels off the South Lido Beach Nature Park are right up your alley, so to speak. (We say world-famous because travel magazines around the world have featured the tunnels, and Sarkozy says it's even rumored that Prince Albert of Monaco paddled them several years ago.) Be prepared; 20 concessionaires guide tours there, so it does get crowded, especially in the spring. The tunnels also are open to anybody as a private person for free. Narrow and low-ceilinged, the tunnels bring you up close to lots of fish and wading birds, and you'll get glimpses of Bird Key and downtown Sarasota, too. The shallow-water tunnels take less than an hour to traverse; avoid low tide or you might run aground.
Robinson Preserve
Good news for nature lovers: This county park on the site of an old plant nursery in northwest Bradenton recently completed a 150-acre expansion, bringing it to more than 600 acres of beautiful salt marsh and open lowlands. Launch your own kayak, or rent one from a concessionaire like surferbus.com. Three miles of blueway trails lead to the Manatee River, Palma Sola Bay and Perico Sound. Sarkozy says you can kayak a short, comfortable distance or paddle as much as four or five hours; he recommends the inside, protected trails for novices and the outside trails along Tampa Bay for more experienced kayakers. "Watch out for low tides on the outside because you can get stranded; it's a big sand flat that extends quite a distance into Tampa Bay," he cautions. "And wind is always a concern."

Emerson Point Preserve
Right across the Manatee River from Robinson Preserve, the 365-acre county-owned Emerson Point Preserve on Snead Island in Palmetto is set at the mouth of the Manatee River where it meets Lower Tampa Bay. An official kayak launch puts you on a beautiful natural mangrove tunnel leading to Terra Ceia Bay, or more experienced kayakers can launch from the beach at the westernmost point that juts into Tampa Bay. (The payoff: a great view of the Sunshine Skyway Bridge.) "It's a good couple-of-hour trip for any level and less crowded than Robinson Preserve," says Sarkozy, "but watch the tides."
Snook Haven
The wild and scenic Myakka River runs right by Snook Haven, that charming Old Florida restaurant off River Road in Venice, and you can rent a kayak to do a little exploring. The river is tidally influenced right there, so there's a chance of seeing saltwater and freshwater creatures on any trip—snook, bass, turtles and also dolphins and blue crabs, along with the occasional alligator. "If you go down river, you get into the estuary and the river is wider with a lot of marsh grasses," says Sarzoky. "If you go upriver, you go through a scenic floodplain forest." Finish off your kayak trip with some fried gator bites and camp salad, and you've got yourself the perfect day.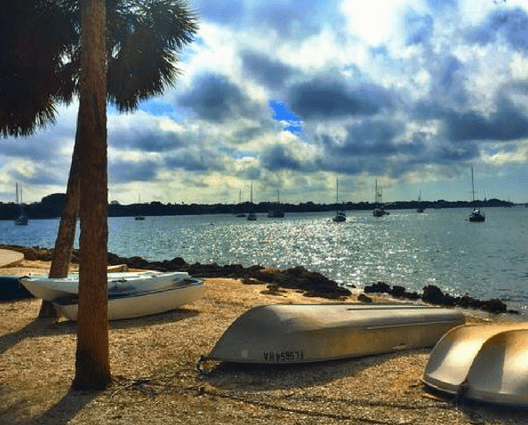 Original content courtesy of Sarasota Magazine
Ilene Denton